Parasite protection for dogs couldn't be easier
One monthly, tasty chew provides broad-spectrum parasite cover
against these key parasites:†
Click on each parasite to find out more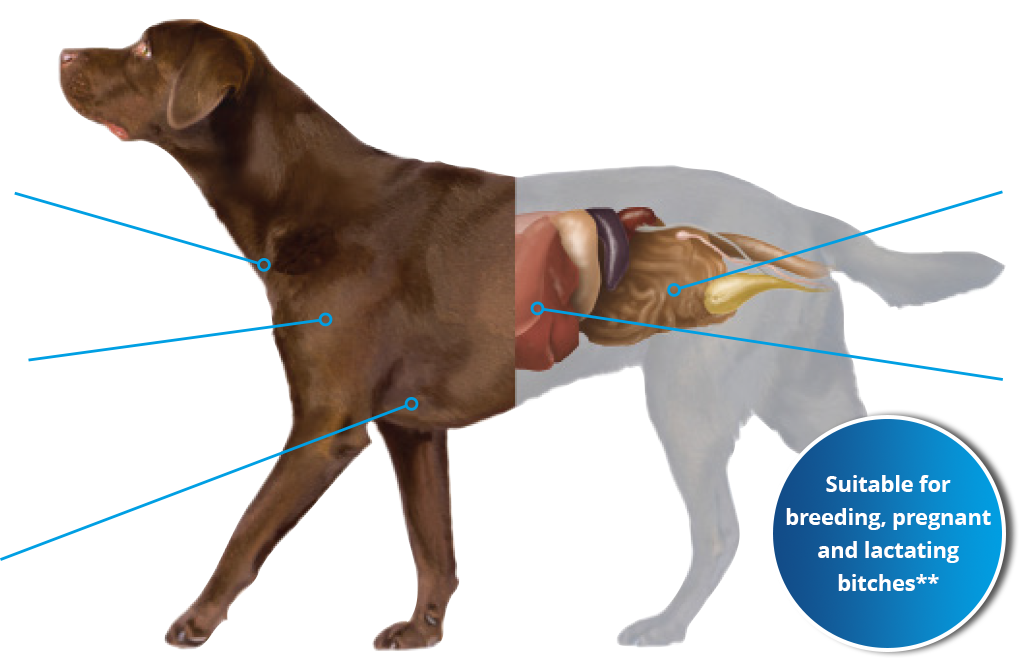 AFOXOLANER
Eliminates
fleas

Terminates
ticks

Manages
mites†
MILBEMYCIN OXIME
Controls
roundworms

Prevents
lungworm
disease
Also covers
Hookworms
Whipworm
Heartworm
Eyeworm
NexGard Spectra® manages mites§
Sarcoptic mange
100% EFFICACY
after 2 monthly treatments51
Demodicosis
98-100% EFFICACY
after 3 monthly treatments§2,3
§ NexGard Spectra®'s mite indication is for treatment of sarcoptic mange and demodicosis. NexGard Spectra® does not cover ear mites. Refer to SPC for specific treatment regimes.
 
References:
Hampel V, Knaus M, Schafer J, et al. Treatment of canine sarcoptic mange with afoxolaner (NexGard®) and afoxolaner plus milbemycin oxime (NexGard Spectra®) chewable tablets: efficacy under field conditions in Portugal and Germany. Parasite 2018;25:63.
Rehbein S, de Vos C, Beugnet FC, et al. Efficacy of Once-Monthly Doses of Oral Afoxolaner and Afoxolaner/Milbemycin Oxime in a Well-Controlled Study for the Treatment of Canine Generalized Demodicosis. Open Journal of Veterinary Medicine 2018;08:250–265.
Lebon W, Beccati M, Bourdeau P, et al. Efficacy of two formulations of afoxolaner (NexGard® and NexGard Spectra®) for the treatment of generalised demodicosis in dogs, in veterinary dermatology referral centers in Europe. Parasit Vectors 2018;11:506.
Roundworms - a forgotten family risk for pet owners?
Toxocara is an increasing public health concern
Eggs are widespread
Eggs are very commonly found in public parks and gardens1

1 in 5 dogs has eggs on their paws and coats2
Children are especially at risk
27% of children have Toxocara antibodies3

Exposed children score lower in maths and reading assessments4
Increased disease risks
Risk of epilepsy is almost doubled5

Risk of asthma is almost tripled6
References:
Morgan E. Toxocara canis: how safe is that sandpit? Vet Times 2018;48:6–7.
Panova OA, Khrustalev AV. Dog walking brings Toxocara eggs to people's homes. Veterinary Parasitology 2018;262:16–19.
Ree GH, Voller A, Rowland HA. Toxocariasis in the British Isles 1982-3. Br Med J (Clin Res Ed) 1984;288:628–629.
Walsh MG, Haseeb MA. Reduced cognitive function in children with toxocariasis in a nationally representative sample of the United States. Int J Parasitol 2012;42:1159–1163.
Quattrocchi G, Nicoletti A, Marin B, et al. Toxocariasis and epilepsy: systematic review and meta-analysis. PLoS Negl Trop Dis 2012;6:e1775.
Li L, Gao W, Yang X, et al. Asthma and toxocariasis. Ann Allergy Asthma Immunol 2014;113:187–192.
NexGard Spectra® is also suitable for puppies
Can be used on puppies
from just 8 weeks of age and from 2 kg

Five weight ranges
enable appropriate monthly dosing as puppies grow

Monthly dosing follows ESCCAP‡ 
puppy roundworming recommendations
NexGard Spectra® offers benefits for owners and practices too
Explore the latest...
One and Done owner materials
Puppy campaign
Parassess risk checker
Learn and win an Apple Bundle
* NexGard Spectra® is indicated for the treatment of flea and tick infestations in dogs when the concurrent prevention of heartworm disease, angiostrongylosis and/or treatment of gastrointestinal nematode infestations is indicated. NexGard Spectra®'s mite indication is for treatment of sarcoptic mange and demodicosis. NexGard Spectra® does not cover tapeworm.
** The safety of the veterinary medicinal product has not been established in breeding males. In breeding males, use only according to the benefit-risk assessment by the responsible veterinarian.
† NexGard Spectra® also covers heartworm, hookworms, whipworm and eyeworm. NexGard Spectra®'s mite indication is for treatment of sarcoptic mange, demodicosis and otodectes cynotis. NexGard Spectra® does not cover tapeworm.
‡ European Scientific Counsel Companion Animal Parasites.
NexGard Spectra® contains afoxolaner and milbemycin oxime. UK: POM-V IE: POM. Further information available in the SPC or from Boehringer Ingelheim Animal Health UK Ltd., RG12 8YS, UK. UK Tel: 01344 746959 (sales) or 01344 746957 (technical), IE Tel: 01 291 3985 (all queries). Email: vetenquiries@boehringer-ingelheim.com. NexGard Spectra® is a registered trademark of Boehringer Ingelheim Animal Health France SCS, used under licence. ©2023 Boehringer Ingelheim Animal Health UK Ltd. All rights reserved. Date of preparation: October 2023. UI-CAN-0129-2023. Use Medicines Responsibly.